Roundup: 25 DIY Halloween Wreath Ideas To Celebrate Halloween
*Disclaimer: There are affiliate links in this post. I am a participant of the Amazon Associate Program. I may earn a commission on any qualifying purchases that you make at no additional cost to you. For more information, please read my disclosures. disclosure
Roundup: 25 DIY Halloween Wreath Ideas To Celebrate Halloween
    I can't quite put my finger on what it is about Halloween that makes it one of our family's favorite holidays. 
Could it be the costumes? Maybe it's the over-the-top makeup? 
Or even the ridiculous decor that seems to get everyone in the mood to just let loose a little and forget about the stress of your daily grind. 
Mmm, I can already imagine that sweet smell & taste of pumpkin spice. 
How about you? 🙂
    One of my favorite ways to celebrate Halloween each year with my family is to make a DIY Halloween wreath for our front door to get everyone excited about the change in seasons and cooler weather ahead.
What's more gratifying for me is when it's a frugal project that anyone can recreate with just a few knick-knacks that we can find scattered around the house and repurpose into something beautiful to enjoy. 
Here are 18 spooky yet sweet DIY Halloween Wreath Ideas from all across the web that is sure to give you a cold chill down your spine. 
Enjoy my pretties! 🙂
If you've got extra ornaments at home that you are thinking about repurposing, give this Halloween Ornament from Christine a try. She's got a great tip on how to do this using only 1/2 of a styrofoam wreath form so that you can reuse the other 1/2 to make another wreath. That's genius and frugal to boot!
2. Easy Black Lace Halloween Wreath
Are you looking for an understated, simple, yet elegant Easy Black Lace Halloween Wreath to make for your home? Check out, Lisa's tutorial on how to create this using just ribbon, lace, and pre-made craft spiders.
This sweet and simple Halloween Candy Wreath from Deanna is a real winner, IMHO. You'll be killing 2 birds with one stone when the kiddos come knocking on your door because you can stay inside without physically passing out treats and your door looks spectacular too! Who does not like that?! 🙂
4. Calavera Sugar Skull Wreath
Doesn't this make you wanna do the cha-cha? Celebrate Dia De Los Muertos (Day of the Dead, a traditional Mexican holiday to honor the lives of beloved ancestors) in style with this gorgeous Calavera Sugar Skull Wreath brought to you by, Niki.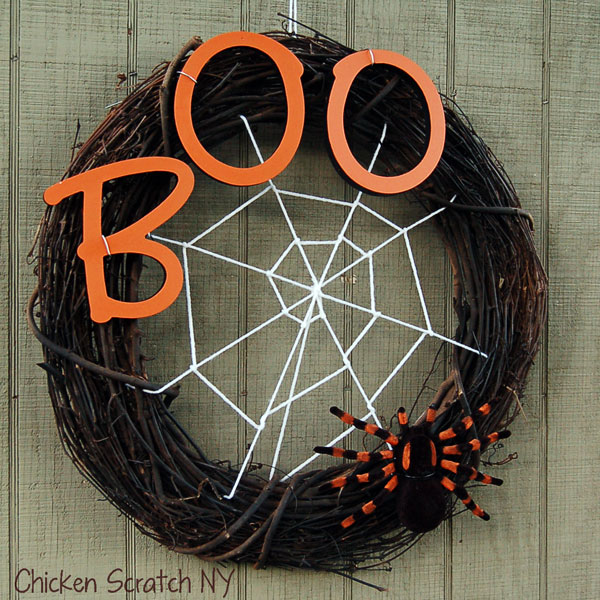 If you have school-aged kiddos at home, this is a cute and kid-friendly project for them to attempt without the worry of any huge mess to clean up. Check out this adorable Halloween Spider Wreath from Alecia over at Chicken Scratch NY.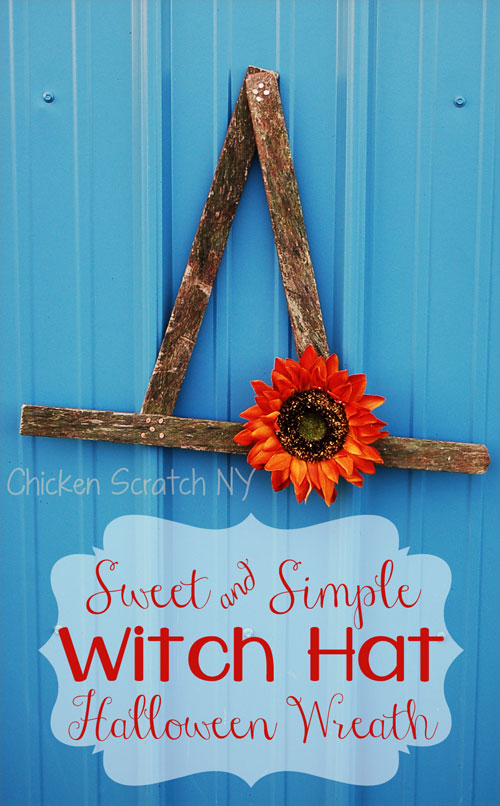 Another cool creation from Alecia, over at Chicken Scratch NY, is this neat and outside-of-the-box Witch Hat Halloween Wreath that repurposes old wooden slats from her fence. Just an excellent example to show that you do not need all the expensive, fancy, bells and whistles to achieve a unique and one of a kind festive look! 🙂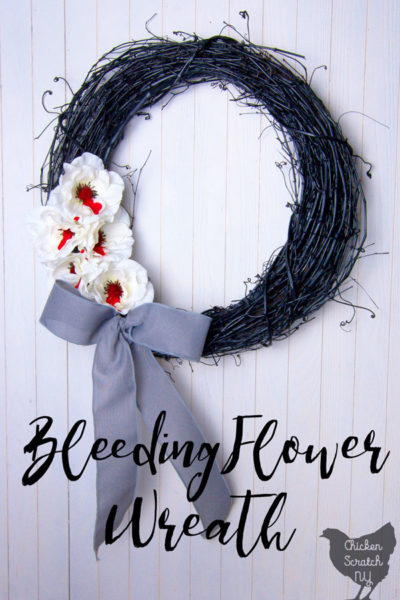 Alecia is just knocking it out of the park on this roundup post with not 1 but 3 Halloween wreath inspirations for your viewing pleasure! Check out her tutorial for how to make this spooky bleeding flower wreath.
8. Crows Nest DIY Halloween Wreath 
To achieve this simply chic and beautifully rustic yet creepy look, check out Wanda's tutorial on how to recreate this Crows Nest DIY Halloween Wreath for your front door.
Want a fun take on a Halloween themed wreath that's not too scary for your little kiddos? Check out how Sarah made this cute and easy monster wreath.
10. Freddy Krueger Halloween Wreath Movie Monday Challenge
If you're a fan of the movie, A Nightmare on Elm Street, you'll love Michelle's creation of the Freddy Krueger Halloween Wreath. This is one that will be appreciated by the older kids or the kids at heart crowd for sure.
If you've got a few black and orange bandanas just lying around the house somewhere that you can repurpose into a cool craft project (like a wreath), be sure to check out this Bandana Halloween Wreath tutorial from Jenny.
12. Easy And Fun Monster Wreath DIY
Here's another fun one for your little ones who aren't ready to be scared out of their wits just yet. This sweet and colorful Monster Wreath is brought to you by Nathalie.
13. Creepy Crows Bones Halloween Wreath
Stephanie's got a whole slew of these over on her site featuring lots of cool Halloween wreath ideas just like this creepy crows bones Halloween wreath. Check them out for more scary front door inspirations!
14. Spooky Halloween Spider Web Wreath 
Check out this creepy number also from Stephanie. Grab your white tulle and stuffing material and prepare to amaze your friends and family with this spooky Halloween spider web wreath.
15. Mini White Pumpkins Ghost Burlap Wreath 
Here is another gorgeously ghoulish wreath from the lovely Stephanie. This mini white pumpkins ghost burlap wreath is too cute for just Halloween. I would like to display it for Thanksgiving too!
Here's a lovely vintage designer-inspired Halloween Skeleton Wreath from Cassondra & Arthur, that is sure to be the object of anyone's envy in your neighborhood!
17. Mr. Boo's Blinged Out Halloween Wreath 
I love how Holly infuses humor into her Mr. Boo's Blinged Out Halloween Wreath tutorial. Yes, Holly, I'm sure Mr. Boo was once a handsome guy when he was alive too, great job! 🙂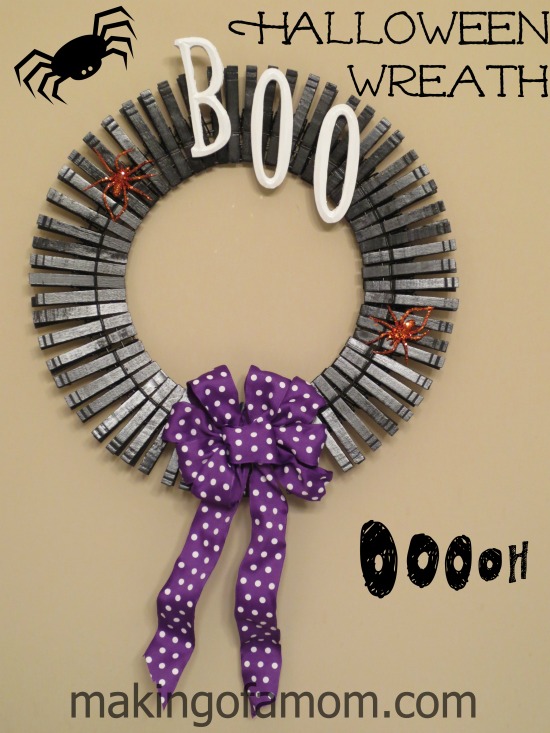 18. Easy Clothes Pin Halloween Wreath
If you've got more clothespins at home than you know what to do with, here's a great tutorial for how to make this easy clothespin Halloween Wreath from Stefanie that is sure to put it to great use. You can always repurpose it for another project later on too!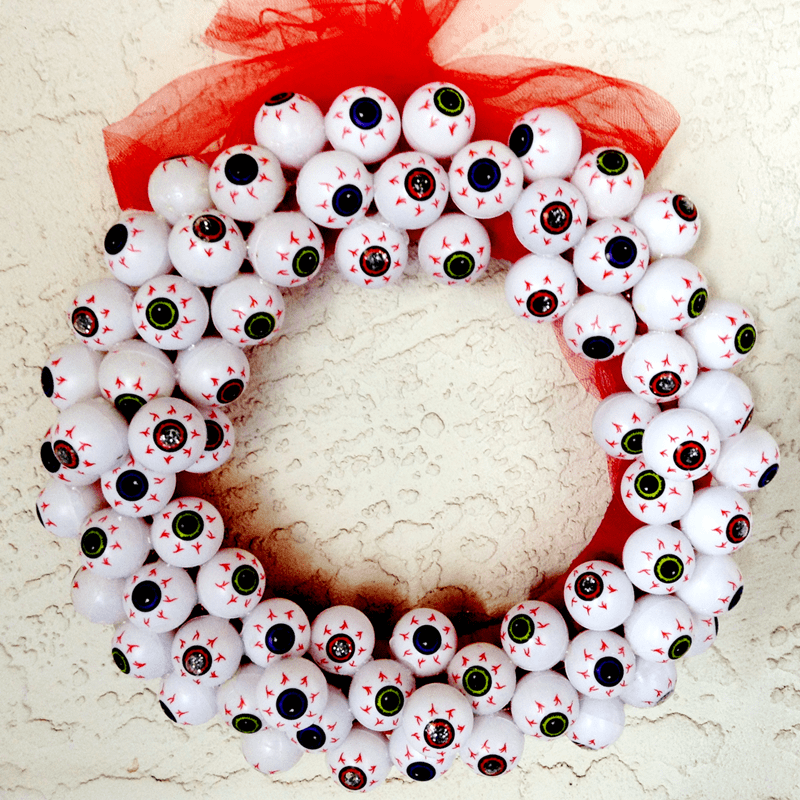 Jaclyn gives us a great reminder that you do not need to spend a lot to recreate something awesome, like this eyeball Halloween wreath. It fits the bill perfectly!
20. Halloween Glam Spider Wreath
This fancy Halloween Glam Spider Wreath gets brownie points for bringing that extra oomph with the scare as well as the glam factor. I love the mix of neon green paired with the black and purple textures from the feather boas she uses.
21. Easy Yarn Wrapped Halloween Monster Wreath 
This cute little number from, Jennifer is perfect for your little ones to enjoy. It reminds me of the characters from the Monsters Inc. movie, it's sooo cute! 🙂
22. Dollar Tree DIY Harry Potter Wreath 
Calling all Harry Potter fans! Come check out this amazing Dollar Tree DIY Harry Potter Wreath from Michelle and tell her that you too are "up to no good!" 😉
23. Yarn Wrapped Letters Crafty October
For fans of crochet crafts, here's a simple tutorial from Michelle on how to create these beautiful yarn wrapped letters. You can hang them pretty much anywhere inside your home for Halloween!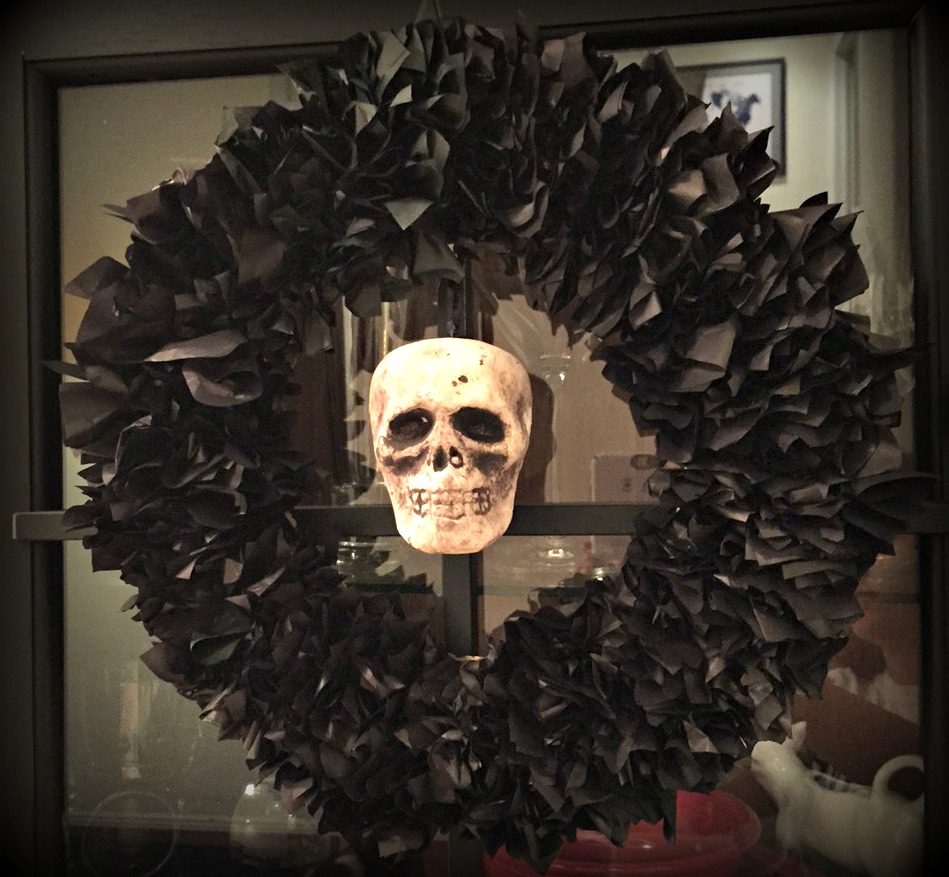 24. How To Make A Tissue Paper Halloween Wreath 
Can you believe this beautiful wreath only cost $3! Check out how to make this tissue paper Halloween wreath from Rocky Mountain Bliss.
25. Nightmare Before Christmas Wreath 
If you're a fan of the movie, The Nightmare Before Christmas, you're going to want to check out this tutorial from Maggy over at RedTedArt. She is chock full of fun ideas and activities for kids to enjoy!
Do you love Halloween as much as I do?
Check out these posts below for more fun and frugal ideas to create your own:
Please feel free to save and follow me on Pinterest. You may use 1 image as long as you link directly back to my original post. However, you may not copy my content as it is illegal and unlawful. If you have any questions or concerns, please reach out to me via email at admin@fulloffortunes.com. Thank you very much for your interest in https://www.fulloffortunes.com