Roundup: 21 Back To School Themed Crafts To Get Your Kids Excited For School
*Disclaimer: There are affiliate links in this post. I am a participant of the Amazon Associate Program. I may earn a commission on any qualifying purchases that you make at no additional cost to you. For more information, please read my disclosures. disclosure
Roundup: 21 Back To School Themed Crafts To Get Your Kids Excited For School
Boy, does time fly when you're having fun, doesn't it?! lol
I don't know about you, but my two kiddos are counting down the days and weeks until they have to go back to school. It's so sad, I know! 🙁 
If you are curious, it's T-minus 3 weeks for us here in my neck of the woods. 
Here are 21 awesome back to school themed craft ideas from all around the web to get your kiddos excited to get back into the swing of learning again, enjoy! 🙂
Check out Christine's adorable yearly Back-to-school handprints shirt that she created for her son! What a fun way to hang on to those precious memories year after year, click through to learn more.
Check out this cute creation that Nicole and her daughter made together in order to get her daughter mentally prepared for school. What a neat way to sneak in some math skills while having fun too!
Looking for a fun and simple project that won't cost you an arm or a leg? Check out this tutorial with free printable that shows you how to make a ruler wreath with items that you probably already have around the house.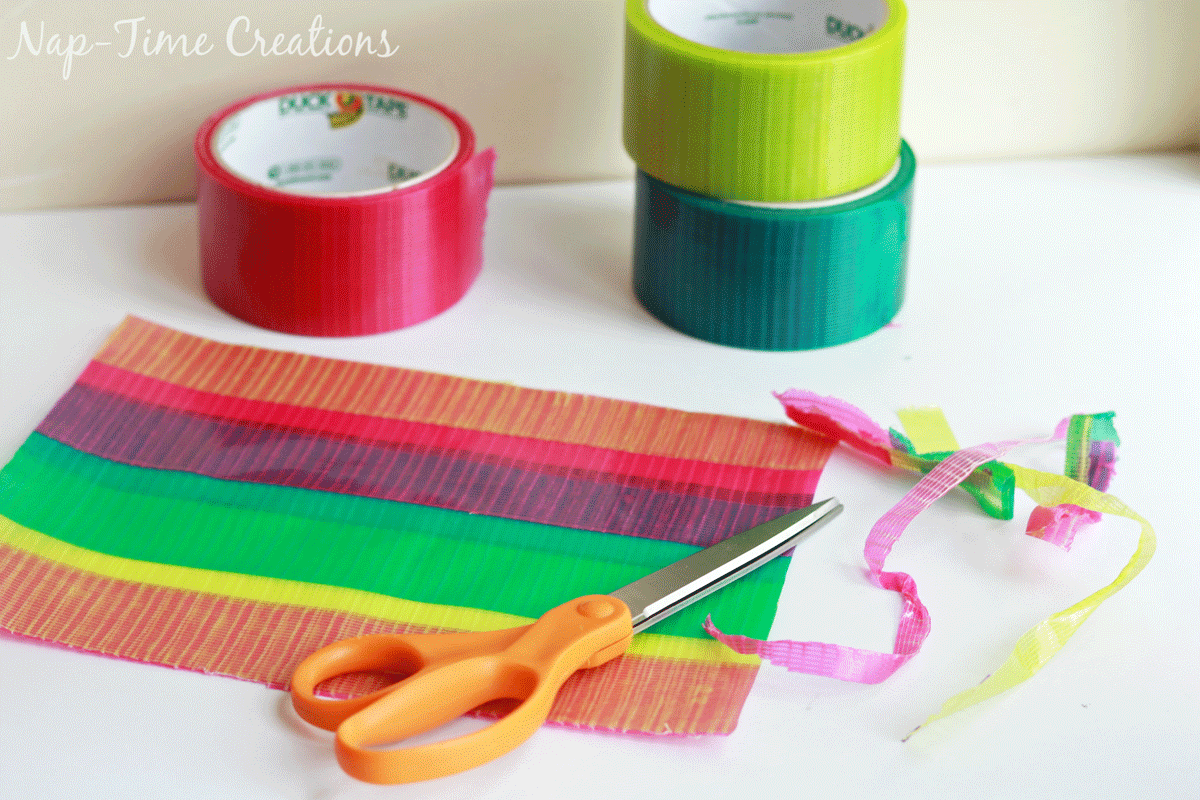 If you have a slight obsession with washi tape, like I do, then this project is right up your alley. Emily shows us how to create this gorgeous little zipper pouch with a variety of duck tape perfect for back to school season!
Whether or not you have a little budding artist or you happen to be one yourself, you'll love this cute doodling project from Randi. Check out how to make your own coloring page pencil case below!
What a fun way to reuse and breathe life back into your kids' toys by repurposing them! Randi shows you how to make this DIY dinosaur pencil holder using toys you may already have in your child's room.
Here's another one from Randi! They are such a sweet idea to get your kiddos to eat their school lunches!
Here's a quick & handy tutorial from Stephanie on how to sew a back to school drawstring bag in minutes that will hide the seams too!
Does your kiddo need a coin pouch to hold their lunch money? Chelsea's got you covered with this sweet tutorial on how to make your own DIY backpack coin pouch perfect for back to school season!
If you're a fan of Harry Potter's, then you're going to love these Harry Potter Mason Jars to hold all of your drawing tools, courtesy of Sarah. Click on through to check out how she created these!

If you just can't seem to get enough duct tape projects, here are 3 more easy duct tape crafts for back to school from Kim & Carrie that is sure to delight you!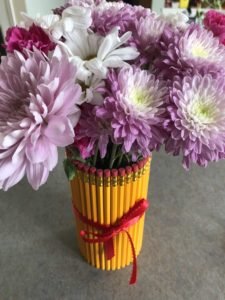 If you're looking for a cheap & easy gift for your kiddo's teacher, look no further than this tutorial on how to make a pencil vase teacher's gift from Monica!
If you love a good DIY furniture makeover project as much as I do, you're going to love this vintage school desk DIY makeover from Holly! Click through to learn how she did it!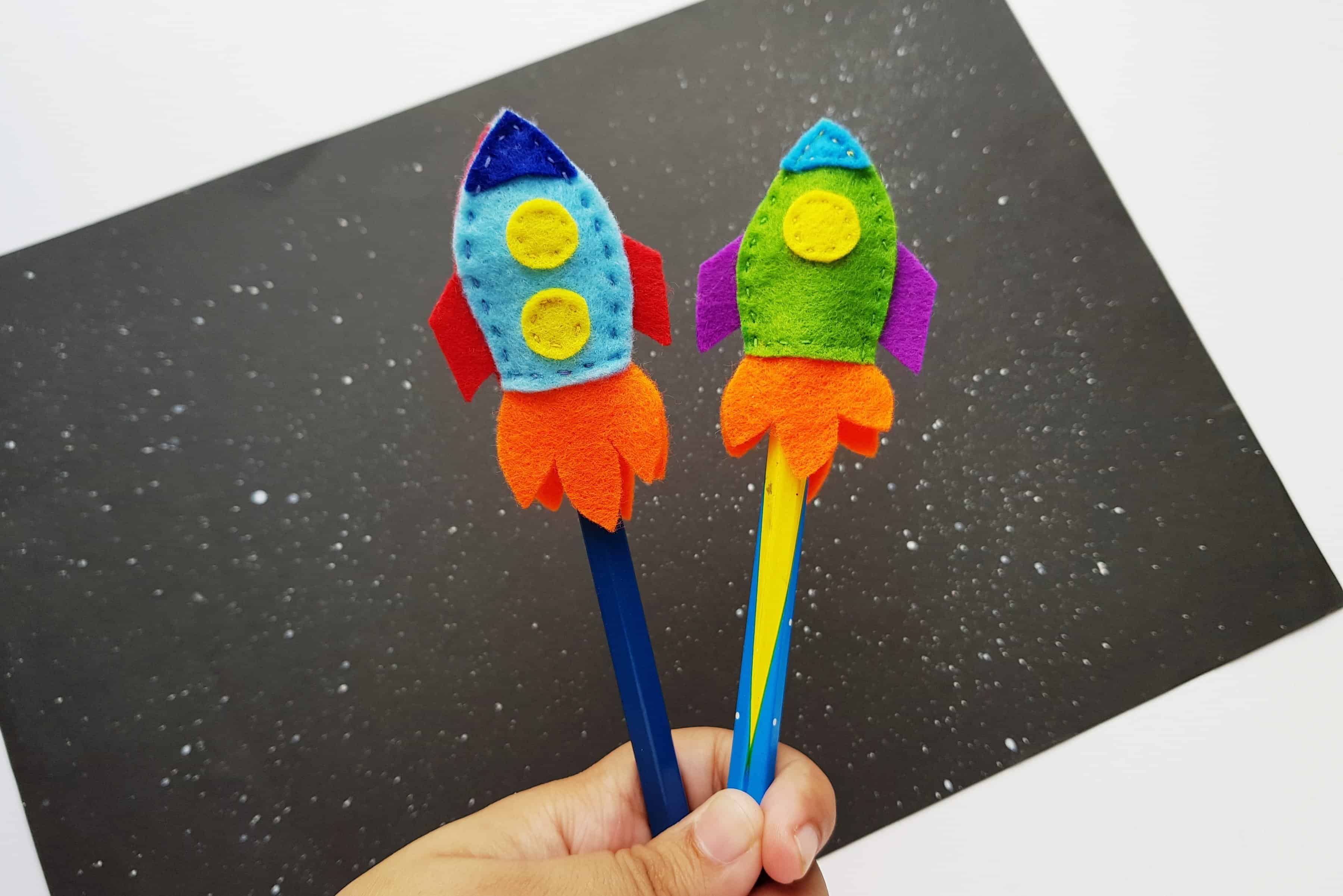 Need a cute craft idea that will help your kiddo build their fine motor skills? Here's a step by step tutorial from Angela on how to make your own DIY space rocket pencil toppers!
Here is a fun and easy way to capture the memory of their first day of school by displaying your kiddo's photo inside this cute popsicle stick schoolhouse picture frame. Sumer shows you how to create one below!
Who doesn't love highlighters? Not anyone I know, especially not teachers. Check out Emily's post to make one for your kiddo's teacher!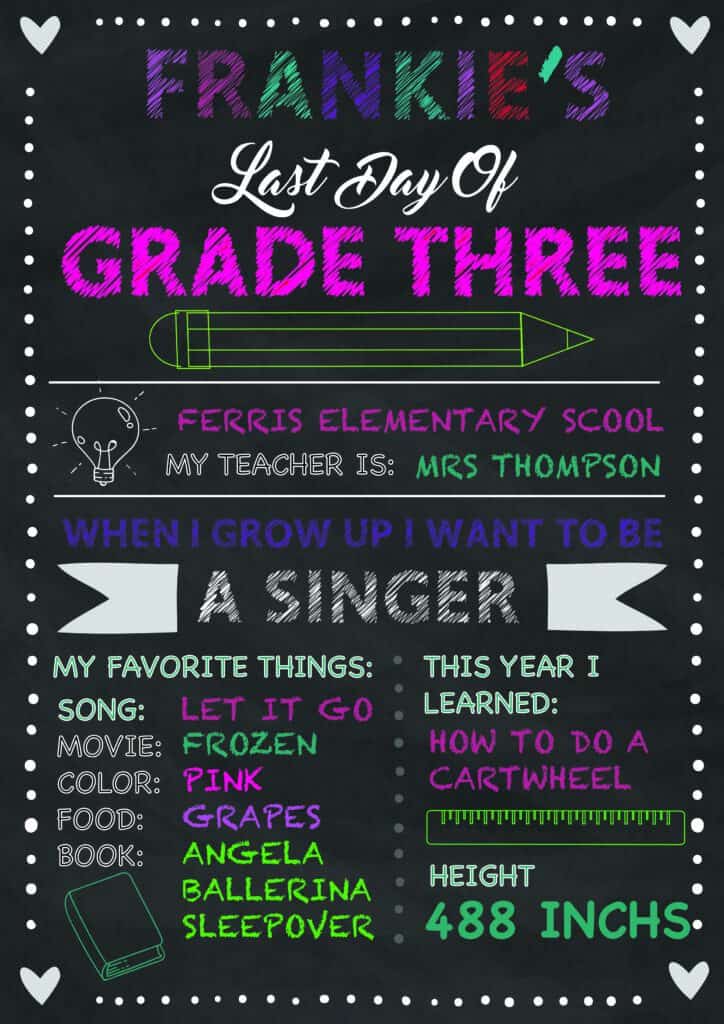 Grab a pic of your kiddo holding this sweet looking printable School Milestone Poster on the first day of school, courtesy of Carolyn!
Send them off to school in style with these gorgeous DIY duct tape rose pens courtesy of Maggy!
How adorable are these gumnut octopus crafts? Maggy suggests using these as pencil toppers for your kiddos, perfect for back to school!
Maggy created this cute DIY journal idea that's perfect for your budding little writer for back to school!
Here is another adorable DIY mini notebook idea for all of you Emoji fans from Maggy. Check it out below!
Want to make sure they get up in time and make it to school on the first day?
Grab this Back To School Schedule to help your kiddos get back into their school routine!
Between you and I, I am really just ecstatic that school is starting back up again. ? 
Don't get me wrong, I really love my kiddos. 
But as much as I'd love a good R&R session once in a while, this mama craves structure, routine, peace and quiet. ? 
Back to school, for me, means that order is restored once again. 🙂
#INFJconfessions
For More Back To School Ideas, check out these posts below:
2.) How To Get Your Kids Back On A School Schedule 
3.) How To Make A Back To School Decorative Doormat 
4.) 25 Back To School Lunch Ideas To Fuel Up Your Kids
Please feel free to save and follow me on Pinterest. You may use 1 image as long as you link directly back to my original post. However, you may not copy my content as it is illegal and unlawful. If you have any questions or concerns, please reach out to me via email at admin@fulloffortunes.com. Thank you very much for your interest in https://www.fulloffortunes.com